ARC Executive Director Speaks on the Transportation Referendum at Latin American Chamber Networking Breakfast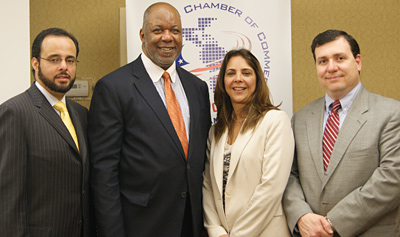 Left to right: Cesar Abadia, LAA Board member, Douglas Hooker, ARC, Monica Maldonado, LAA Board member and Alejandro Coos, LAA President
Douglas Hooker, ARC Executive Director, discussed the Transportation Referendum as the keynote speaker for the Latin American Chamber of Commerce Networking Breakfast on March 22, 2012. He briefly described ARC's role as the regional planning agency for the metro region and a commitment to informing every citizen regarding the important vote on July 31. He highlighted important facts about the Regional Transportation Referendum and the choices that must be made to generate new funding for transportation improvements throughout the 10-county Atlanta region. Questions raised by those present were issues around ensuring that procurement opportunities would be available for Latinos. Interest was also expressed in having future presentations in Spanish. View the complete slideshow presentation.
Over 400 attend the White House Initiative on Asian Americans and Pacific Islanders(AAPI) Southeast Regional Action Summit
The White House Initiative on Asian Americans and Pacific Islanders partnered with community organizations to host the first Southeast Regional Action Summit in Atlanta, Georgia on Friday, March 16, 2012 with over 400 participants. During the day, there was spirited discussion and progress made in identifying opportunities for empowering the AAPI community in areas such as civil rights, health, small business and health. Speakers noted that communities are embracing the notion that people are our strongest resource and the key to a full economic recovery and maintaining a competitive edge globally. According to Chaiwon Kim, CEO and President, Center for Asian and Pacific Islander Services, it was the first Regional Action Summit to provide interpretation for multiple AAPI limited English proficient communities.
| | |
| --- | --- |
| | According to the 2010 Census, Asian Americans and Pacific Islanders (AIPI) comprise 3.2% of the population in Georgia, experiencing an 82% growth since 2000. |
Read comments by Kiran Ahuja, Executive Director of The White House Initiative on Asian Americans and Pacific Islanders on the progress made at the Southeast Regional Action Summit in Atlanta and reflection on her own childhood experiences in Georgia.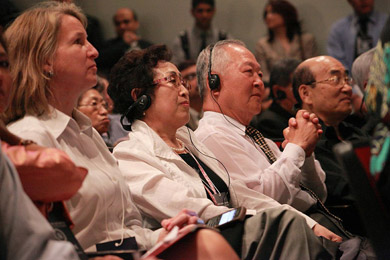 Parent to Parent of Georgia Profiled
More than 400,000 children and youth in Georgia have a disability or health care need. And, according to Parent to Parent of Georgia Executive Director Debra Tucker, more than 100,000 of these families live in metro Atlanta communities. Parent to Parent of Georgia is a statewide nonprofit that strives to be the source of choice for support, information, education and leadership development to families and individuals with any disability or special health care need up to age 26.
"We have experienced growth this year in reaching more families across Georgia, particularly diverse families," said Tucker. "We are proving that we can help families that do not speak English, including those who were not born in the United States or came here under duress." Special Parent to Parent programs include a Parent Training & Information Center, a Health Information Center, a Babies Can't Wait Central Directory and a Family Support 360 Project.
International Women's Think Tank Launched
The International Women's Think Tank (IWTT) was recently launched during a special luncheon commemorating International Women's Day. Organizational meetings have begun with a core group of multi-ethnic professional women charged with initial identification of priorities and projects to be undertaken by IWITT. The intent is to encourage intercultural understanding and the importance of working together globally in an interconnected world. To get involved, e-mail bmorant@usintf.org.
Applications for Regional Leadership Institute Available Now
Recruiting for the 2012 Regional Leadership Institute (RLI) has begun. RLI, founded in 1999, is a program of the Atlanta Regional Commission that brings together business, civic and public leaders from across the 10-county Atlanta region to explore the issues and opportunities facing metropolitan Atlanta and facilitate discussion about how leaders can work together to address the same. It is a week-long interactive program, limited to 50 participants each year. Individuals are considered and selected for the RLI program through an open application process.

RLI participants include existing and emerging leaders representing the public, private and nonprofit sectors of the 10-county Atlanta region. This includes elected officials, department heads, business executives and organizational leaders. The Institute will be held at The Westin, Savannah Harbor, September 16 through September 21. The deadline for receipt of applications is April 13, 2012.
Model Atlanta Regional Commission (MARC) - Calling Metro Atlanta Teen Leaders
Now in its 14th year, the award-winning Model Atlanta Regional Commission youth leadership program is looking for outstanding teens in the 10-county Atlanta region to be a part of the 2012-2013 class. ARC is now accepting applications for the 2012-2013 Model Atlanta Regional Commission class, which will begin Saturday, September 8. Deadline to apply: Friday, April 13, 2012. Apply now!