Dear RLI Alumni,
Welcome to "CONNECTIONS," the quarterly electronic newsletter designed to link a dynamic, multi-generational group of leaders together. "CONNECTIONS" will be distributed to Regional Leadership Institute (RLI) alumni on a quarterly basis. The goal is to keep metro Atlanta leaders informed about regional issues, challenges and significant events and happenings. Additionally, we hope that this newsletter will help track what alumni are up to and how you are effecting positive change across the region.
Read on to learn about remarkable work being done in the community, issues and opportunities facing the leaders of today and personal and professional updates on your colleagues. Be sure to keep in touch and let us know how you are leaving a "legacy of leadership" in your civic and volunteer work.
We look forward to staying connected.
Sincerely,
Tony Landers
RLI Program Director
Drum Roll Please… RLI Alumni 2nd Annual Dinner Keynote Speaker Announced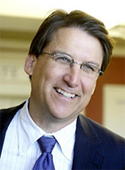 The speaker for this year's annual dinner, which will be held from 5 p.m. – 8 p.m. on October 17, 2010, at the Cobb Energy Performing Arts Centre, is Pat McCrory, former Mayor of Charlotte, NC.
In November 2007, McCrory became the longest-serving mayor in the history of the City of Charlotte. During his seven terms as mayor, he distinguished himself as a leader in public safety, economic development, housing and transportation. McCrory has been recognized nationally for his leadership in developing Charlotte's 25-year transportation and land use plan, including his efforts to secure $2 billion in local and state road improvements and $200 million in federal funds for light rail in Charlotte. He led Charlotte through a successful ballot initiative for light rail and later defeated an attempted recall of the light rail funding that resulted from the initiative. Please join us on October 17 to hear more about what the Atlanta region can learn from Charlotte's experience with two successful transit financing referendums.
To register, contact: kdeberry@atlantaregional.com
RLI Happenings – 56 Emerging Regional Leaders Selected for RLI 2010
More than 150 highly-qualified candidates submitted an application to be a part of the 21st class of the Regional Leadership Institute. The quality of the applicants made for an especially difficult selection process, but 56 emerging leaders were selected and are looking forward to participating in RLI this September.
2010 RLI Class List (please post pdf from email and link to this)
Policy Update – Water Woes & How You Can Help
Water (or lack thereof) is not a challenge unique to Georgia and the Atlanta region. What is unique to Atlanta is the current pressure we are under to address and solve these challenges within the next two years. While some of the water discussion is between states, much of the discussion must necessarily take place between community leaders within the State of Georgia. One grassroots group working on leading these discussions is the Apalachicola-Chattahoochee-Flint (ACF) Stakeholders.

The ACF Stakeholders concept was initiated at a meeting in August 2008, when seven users of the Apalachicola, Chattahoochee and Flint rivers met to discuss the possibilities of a grassroots organization that would provide a different path to solving the 20-year-old water conflict. The goal of the group is to engage stakeholders throughout the basin to work on solutions.

ACF Stakeholders meetings provide a great opportunity to learn more about the perspectives of other stakeholders in the basin and to show support for collaborative solutions. (i.e. you will hear from the agricultural perspective in Flint, the fisherman in Apalachicola, the industrial perspective from Farley Nuclear Plant and the wastewater issues that are of concern in Columbus). As a leader in the Atlanta region, we encourage you and your organization to join the ACF Stakeholders group.
More information can be found at:
www.acfstakeholders.org
www.atlantaregional.com/environment/tri-state-water-wars
Alumni News
Are new and exciting things happening in your personal and or professional life? Have you recently received an award or been appointed to a board? If so, we want to know! Please send updates to rliconnections@atlantaregional.com and we'll share them with the RLI Alumni Network.
Bill Bolling (Class of 1992), founder and executive director of the Atlanta Community Food Bank, was awarded the 2009 Shining Light Award, which recognizes outstanding business and community leaders for their individual contributions to build a better Atlanta.
Deane Bonner (Class of 2006) is stepping down as president of the Cobb NAACP after serving 13 successful years at the helm. Under her leadership, the organization pushed for more minority members in the county school system's administration, monitored and criticized sentencing practices for minority offenders in Cobb's courts, and called for more government spending with minority businesses.
Faye DiMassimo (Class of 2007) is the new director of Cobb County's Department of Transportation. She recently presented a well-received plan to build a $2 billion light-rail line along the U.S. 41 corridor in Cobb County.
Michael Dobbins (Class of 2000) published a new book entitled Urban Design and People, which offers an insider's perspective on the day-to-day work of an urban designer.
Matt Forshee (Class of 2007) is the new president of the Athens-Clarke Economic Development Foundation.
Steve Gooch (Class of 2007) has been representing the state's 9th Congressional District on the state Department of Transportation board since October 2009 and he has recently qualified as a Republican to replace Sen. Chip Pearson in the 51st Senate District.
John Kelley (Class of 2006) has been appointed to the board of directors of the newly formed Newton College and Career Academy, which will provide a vital link between high school students, DeKalb Technical College and local businesses.
Tad Leithead (Class of 1991) began serving as Chairman of the Atlanta Regional Commission this January.
Tim Lowe (Class of 2002) served as co-chair of the Governor's Water Contingency Task Force, which made recommendations that were included in the Water Stewardship Act of 2010, recently signed by the Governor.
Sam Olens (Class of 1999) resigned after nearly eight years at the helm of Cobb's government and five years as ARC Chairman to run for Georgia Attorney General.
Billy Peppers (Class of 2008) and his wife Julie are expecting a new addition to their family. Baby boy Turner Bennett Peppers is due to arrive on June 28th.
Lynne Riley (Class of 2005) is seeking election as the representative of Georgia House District 50 after serving the past 6 years as Fulton County Commissioner for District 3.
Lisa Rossbacher (Class of 2006) was recently appointed by the State Board of Regents to serve on the Residency Verification Committee. The newly established committee will provide guidance on how colleges should verify students' citizenship.
Garry Guan (Class of 2006) has formally kicked off his campaign and is working with voters to become Georgia's first Chinese-born state senator.
Janice Van Ness (Class of 2007) will open a second location of Peachtree Academy, a non-denominational Christian school, this fall in Newton County in the building which formally housed 84 Lumber.
Leadership Lessons
Read any good books lately? Heard an inspiring message recently? Leadership Lessons will feature publications and presentations focused on leadership and self-development. Suggestions are welcome – just send the book or presentation title, author and brief synopsis our way.
The Stress Effect: Why Smart Leaders Make Dumb Decisions--And What to Do About It
By Henry L. Thompson
The ability to make sound and timely decisions is the mark of a good leader. However, when leaders with otherwise strong track records suddenly begin making poor decisions—as seen in the recent corporate scandals that rocked the business world—the impact can be devastating.
In The Stress Effect, leadership expert Henry L. Thompson reveals that stress is often the culprit behind leadership failure. When leaders' stress levels become sufficiently elevated, their ability to call on both emotional and cognitive intelligences to make wise decisions is dramatically impaired. Experts have argued that increasing your emotional intelligence will help you cope with and manage stress. But Thompson clearly shows that stress actually blocks access to your emotional intelligence as well as your cognitive intelligence, two critical components in the decision-making process.
The Stress Effect offers critical guidance for any leader under pressure, for those charged with selecting high-potential leaders, or for anyone who wants to understand how to manage stress in their own lives.