The Green Matters e-newsletter is designed to give you a quick glimpse of important sustainability initiatives happening around the metro Atlanta region and beyond. Whether it's the latest research, new educational offerings, environmental stewardship efforts, or potential funding opportunities, this e-newsletter will help you stay abreast of what's happening in this important subject area.

Do hybrid, electric vehicles pay off for Fort Collins?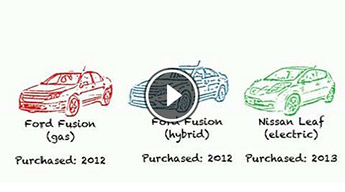 Hybrid and electric technology could be a financial game-changer for Northern Colorado municipalities, if they're willing to wait for the savings it brings.
Although purchasing green vehicles is often more costly up front, cities like Fort Collins say the initial cost is worth the payoff in the long run.
Based on the vehicle's lifetime costs, a Ford Fusion hybrid purchased by Fort Collins in 2012 will be $11,460 cheaper than its gas-powered counterpart purchased by the city in the same year, according to a Coloradoan analysis of three city-owned vehicles.
A Nissan Leaf, purchased by the city in 2013, will save a projected $21,625 over the gas-powered Ford Fusion. Ben Prochazka, of Electrification Coalition, estimates that fueling a Nissan Leaf for 90,000 miles would cost around $2,160, depending on electricity costs, bringing those savings to just under $20,000.
And the city continues to find ways to save money while greening its fleet.
Continue reading to discover how…